Oh New York…
crzydiamond said: Why I somewhat agree with the guys actions, The law doesn't give that outlook. I live in New York and the law for carrying and weapon drawing is only legal when deadly physical force is being used is imminent against you or someone else.
Well that explains the outlook and viewpoint. Each state has their own definition on what is permissible in terms of lawful use (or drawing) of a firearm.
So in a sense that basically in New York you can be robbed and not be allowed to draw or fire upon someone if they aren't using deadly physical force. I guess in a way it also breaks down to what is defined as deadly physical force. The guy in the post could have been pushed down and smashed the back of his head onto the concrete or pushed into oncoming traffic. It's more "what if" scenarios.
Laws like the one described in New York are designed to prevent unlawful gun violence against already unlawful actions committed against you. In a way I kind of understand part of the thought process because most people with guns don't want to go through the traumatic experience of killing someone over something petty like a few dollars or an iPhone etc.
This statue is located in New York…at the United Nations headquarters. I love the city (and state) for it's history, food, pop culture influences, heck I even bought a gun from a retired police chief from New York several years ago…but I could never see myself living there as a gun owner.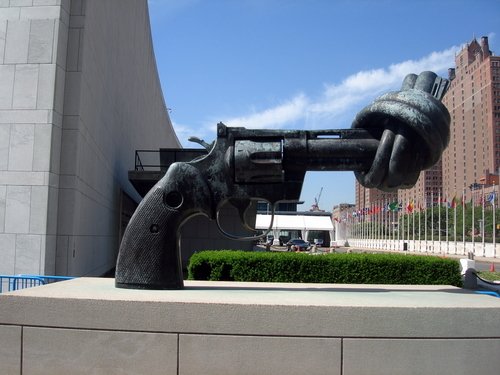 Notes
Created - 9 months ago